United in honoring those who put their lives on the line.
Remembering
As President of the 13th Armored Division Association I would like to offer and suggest the website "Relighting Us" to all veterans.
"Relighting Us" is all about memories. Its design is intended as a place for thoughtful and deep rooted family stories to be placed in a form for all to see and be refreshed. The emphasis is on the word family. We are family…
WWII was a period where many were called to protect and defend their precious families. It was truly a "do or die" situation for us as a nation of families. It was truly a "do or die" situation for us as a nation of families.
---
---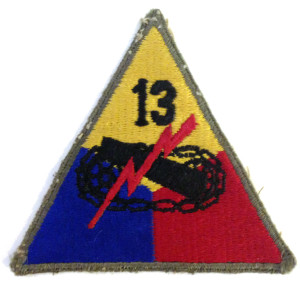 The 13th Armored Division Association (The Black Cats) Reunion has been held annually since 1989. In September 2015, the 14th Annual Reunion took place in Washington D.C. The 2016 reunion was held in New Orleans.
Honor is expressed by attending these reunions and honoring those who have sacrificed – some with their lives, some with injuries and the rest by doing all they could. All involved sacrifice.
Participating in these reunions is a story. A story of our regard for each other – we are like a family. It takes effort to put our stories together and to share them. The benefit of doing this is that it is a way to show our honor for all to see.
---
Here are some examples:
Bob Whelan's Witness to War Interview – conducted on September 12, 2014 by the Witness to War Foundation.
Action at the Bridge at Inn River – by Jack Campey E5. Half Track Driver, Battalion 16, Company C of the 13th Armored was invited by one of his grandsons to come to Powell to tell his story which was videotaped.
Berchtesgaden – memoir story written for my children as a record of my WWII experiences that took place in May 1945.
Battle Jacket – a heartfelt story of what happened after one of our reunions
2015 Black Cat Reunion Update – a few words about the 2015 event
2016 Black Cat Reunion – held in New Orleans
Braunau – Story about a risky mission in WWII
Here are some photos from the 2013 Black Cat Reunion: