We crossed over the Inn for the last time on June 25, 1945. Vacation time was over. The next day we were scheduled to head back to the United States and get ready to go to the Pacific Theatre and fight the Japanese. Maybe the higher ups thought so much of the job we did in Germany, they were going to give us the honor of leading the charge to Tokyo. I'll never know, but we were made aware that the war was not over for us. I don't remember being too enthusiastic about all that, but, war was war, and we had to do our part.
Anyway, we now had a different kind of transport to consider than that of getting to beer joints. One of fairly large proportions, considering we had to move all 10,000 of us half way around the world, get us ready for battle, and give us time to say goodbye to our loved ones. The war against the Japanese would be even more deadly and difficult than it was against the Germans. Not too many of us would be coming back from that war. The Japanese did not surrender…
OK, so again, transport became an issue.
We got to Berg in halftracks, tanks, and trucks. We got there in record time from our previous engagements in the Ruhr Pocket, all things considered. Going back was a whole new ball game. We were going to leave most of them behind. The trucks, in small increments, could take some of us to the embarkation ports in France, but we had to do it all without the tanks and halftracks. Too cumbersome and expensive. The plan there was to leave them all behind in Europe.
Trains and trucks in various combinations thus became our transport. Transport, by the way, was a big, but relatively unrecognized part of our war effort. My Dad was involved in the Army Ordnance Department and I was probably closer to understanding how big and important transport was, than most.
A Company started the journey back on a train that was so antiquated and rickety that a person could walk faster. As a result, we spent most of our three-part journey to our French POE in trucks.
1945
(I'm standing in doorway on right)
We Started in Rickety Old Rail Cars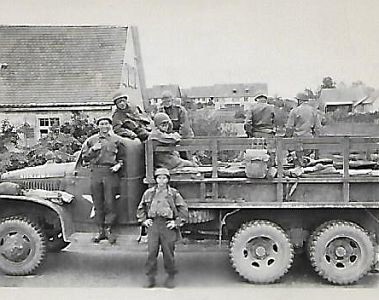 1945
Then Switched to Trucks
In 2017 when Steve and I resumed our journey, using our Eurail Pass, we rode in modern Electric rail cars all the way o Dusseldorf. We left Berg, boarded a train in Salzberg, and resumed our reverse journey to go to the Ruhr Valley, with transfer at Munich.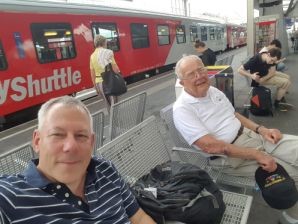 2017
Waiting for Train to Munich
Going backward on this journey gave us time to reflect on how each part was tied into the other In 1945, we had just come from the Ruhr Pocket battle to join up with General George Patton. and the Third Army to finish the job in Europe. Three rather significant events occurred on that 1945 journey to Berg. They are dealt with in a story that follows, titled : Transfer (Transport 3).