"Yesterday – four years since you left. I miss you a lot. Kathryn McAlarney (her husband Mac's ashes rest next to yours) and I together took up the gifts in the mass I had said for you. I so look forward to seeing you again. I can fill in all the details I might have left out in these conversations. So far, my memory is holding up, so we should be having some long talks. Meanwhile, here's what's happened over the past six weeks."
"Yeah, give me the latest."
"OK, a lot to tell. Mostly plans, which I will talk about after I give you the news.
Margaret is not doing well. She was briefly hospitalized. She has a terminal cancer. She was made as well as possible and the able to return home. Jim, Mary, and Marlene, take turns staying with her as she is now under hospice care. She had her 97th birthday last January, and overall has had decent health up until lately. When you go that many years, it is not a surprise that you have issues. She is very happy to be back in her own home. Like it was for you, it is the best place to be. She is in our prayers, and will be joining you shortly.
Anne and I have our weekly lunches. She, as I earlier stated, had found some purpose in taking care of Corky. Corky is 93, so her condition is in a state of decline as well.
Phil and I along with my friend Steve saw a very cute play at Geva. It was about a dog named Sylvia. Very well done, and in a sense very close to home, as Sylvia was daunting, as was my Dorntge Aunt Sylvia. Which, by the way reminds me that the Dorntge's will be having their triennial reunion this June. I don't know if either of her daughter's will be there, but one attended the 2014 reunion. Looked very much like Sylvia, too.
Talked to Bev Mileham. She's doing well, and still doing household sales. Keeps her off the street. I have been hesitant in calling Sue Mason, however. I will do that soon.
We have been having extraordinarily warm weather this past month. Four consecutive days in the 60's. Geneseo hit 77 a few days ago.
My bout with colitis has eased up. I hesitate to say it's all over, but definitely better as of this moment. My tests have been good, and I am watching my diet. I did trip and bruise my kneecap about two weeks ago, No severe aftereffects, but still some soreness. As a result, I had to discontinue my walking at the Community Center, but am now back in the weight room. Probably get back to doing my walking in a week or so. Did put on a few pounds as well, but once I'm whole again, I will try to walk it off.
My classes are going well, as are my church activities. Won the bridge prize at Victor on the 11th. Had the most entertaining experience at the Wilmot Cancer Center at Strong Hospital. Let me roll it out for you.
In 2015, Phil and I took in the East Bloomfield show and I shocked him with my off the wall purchase. He thought I was crazy (with every good reason) because I bought an amazing one-man band instrument called a "Boombass." It looks like about a 5' Pogo stick with a spring-loaded device installed that plays a cymbal at the its top, when you strike it on the ground. On the shaft is located a wood box, a cow bell, and a tambourine. I paid $75.00 for it, and I just had to have it. It also comes with a drumstick. You, with your love of drumming, would probably have been more understanding than Phil – maybe not. But, anyway he thought I was an idiot.
It sat in our bedroom closet until last month. A member of our New Horizons Percussion section wanted to see it and I took it to practice one day. She was not able to check it out, but one of my fellow Tuba players saw it in the back of my car. One thing and another and he ended up taking it over a Rochester Philharmonic Brass Quintet that he sometimes played with. It seems that their lead player was the same kind of goofy as me, and liked goofy things like the Boombass.
To brief it up, the Boombass wound up being played by this leader at a very prestigious concert given at the Wilmot Center. He played it in their rendition of Sleigh Ride for this exclusive audience. It went over famously, and I was honored as the donor and treated to some very nice refreshments after. All in all, a most memorable evening. As I now had found a good home for the Boombass and knew it would be out there spreading joy to the world, I bequeathed it to the Rochester Philharmonic Quintet and left justified and proud. See, I'm not all that goofy. If it can bring on a few laughs – go for it. You know all about that…
Now, to bring you up to date on some more of my unusual behavior, I am in the process of putting together some background for my continuing adventures with the various groups I have been a part of since you left. They keep me busy and in their own way fill in some of the void from your departure.
I am planning on revisiting Ireland with the Dady Brothers this summer, and then revisiting my 1945, 13th Armored Division's wartime route through Eastern France, Germany and Austria. Steve McAlpin will be accompanying me in Germany and we are planning to interact in those areas where we were in conflict and find ways to reconnect. Not only reconnect but, when we have our reunion in September, bring our 13th Armored Division Family up to date on what things are like there in 2017 – 72 years later.
I don't expect to find anybody I knew way back then, but I will try to locate their descendants and get from the same expressions of reconnection that will help their perceptions of reality. Sounds good. I hope it will turn out good. Will know better after I get back.
I will take lots of pictures and write lots of stories, if the Good Lord allows.
I have attached a little poem I wrote. It's kind of an overview of the website Patty and I have been working on. It is dedicated to "Relighting Us."
Will talk to you soon."
---
The Sound of Light
A table bare
A comfortable chair
Pictures spread
Stories read
Memories recalled
Hearts enthralled
Reflections bright
A rustle of light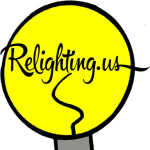 Bob Whelan
January 2017