by Bob Whelan
July 2017
The sentiment of powder and lace
Take me back to a tender place
Where memories replace
A forgotten face
and
An unbelievable grace.
So sums up the story of an amazing revisit to a small French village in the Province of Lorraine. A revisit in a series of life changing adventures of my 13th Armored Division experiences of WWII.
Let me set the stage for this story by summarizing an earlier recollection as taken from my previously written (2005) WWII memoirs.
A Company arrived in Fremenil, Lorraine in late March 1945, after an exhausting and frigid truck ride from Normandy. We were billeted in the several connected houses of the village. Our Squad next to a similar one on our left where a family of four lived. Father, mother, son and daughter. The son was a recently returned Maquis (Free French Armed Forces), and the daughter, a pretty blonde frizzy headed girl of sixteen.
Because of my ability to speak some French, I quickly won the attention of the daughter. Her name was Emelienne (in my earlier account I had wrongfully named her Angelique). I must have impressed her quite a bit, because she was most willing to be in my company as much as possible. After we were there about six days, we were going to be treated to some beer and pretzels and a movie was going to be shown on a nearby outdoor wall. I asked Emelienne to attend the movie with me, and she accepted. Here's where the story gets interesting.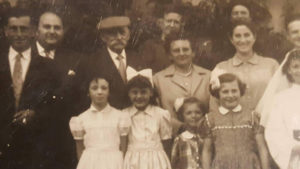 That night I went to the door and knocked. I thought all there would be to it was our short walk to the movie. Surprise! Surprise! When the door opened it was her father, not Emelienne, who appeared. He was dressed in his only suit (these people were poor) Looking further into the room I saw her mother – dressed in her only formal dress. That struck me funny, but I still didn't get it until I saw Emelienne.
There she was. All powdered. coiffed, and laced in a most beautiful formal dress. I hardly recognized her. She was beautiful.
What was going on here? I'm just taking a girl to a movie being shown on a wall.
What's with the fancy dresses and suits?
It was soon apparent that mom and pop were coming along, too. Nothing spoken, but I got the message. OK, not what I had expected, but something I had to accept.
So, off we started to the movie. We had taken only a few steps when my Platoon Sergeant spotted me and yelled: Hey, Whelan, get your gear and mount up, we're leaving. Right now! In my usual way, I was mostly absent when word came down. It happened again this time, as I was throughout my entire Army career, involved in pursuing a different path in a different place. Not a model soldier…
So, without fanfare or any other form of departure, I left Emelienne and her parents, hustled back to where my equipment was, gathered it together and made for a waiting truck. Emelienne and her parents were stunned. They loudly protested, but to no avail. We were gone in a New York minute.
A few days later when we were awaiting our combat assignment we had assembled at the German city of Zweibrucken, my Platoon Sergeant, Eldon Miller, was explaining to my First Sergeant Ed Lyons why I was late for mounting the truck in Fremenil. In the conversation, Lyons said: "Whelan was damn lucky. In that part of the world, asking the girl to go to the movies is like asking for her hand in marriage – or at least an engagement."
That statement stuck in my mind for many years. So much so that it was prominent among my reasons for going back to Europe. I had to go back, find her and apologize to the pretty girl, if she were still living. I had no idea then of what I was actually doing. Or, at the least, tell it to her remaining family. It became a priority item on my bucket list. One of many in my series of WWII revisiting issues.
Fast forward to July 12th and 13th of 2017. Steve and I were booked to stay at a bed and breakfast location in Strasbourg, France on those dates. Our mission on this trip was to attempt to return to nearby Fremenil and revisit the scene just described. We had no clue as to where even Fremenil was located, much less finding anyone there who might have been a part of my adventures with Emelienne and make amends.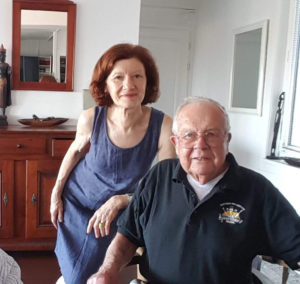 Our hostess at the Strasbourg B&B was a charming and gracious hostess named Jeanne. She treated us like brothers and went the extra mile in all directions for us, including providing a wonderful breakfast before we left on our search. Not only did she treat us so generously, but she, through the use of her computer, was able to locate the exact spot where Fremenil could be found.
And find it we did, in itself an unbelievable task, but with help of Jeanne we accomplished it. Found the exact houses involved in the story, and even the daughters and son in law of Emelienne. His name was Jean Paul Bardot, theirs were Marie and Josette.
Such excitement! The daughters scurried about their houses and came back with boxes of pictures. Sadly, Emelienne had died a few years ago, and was not able to participate in this reunion, but her offspring were there and appreciative of this moment.
I was able to recount my encounter with their mother, and a most memorable time was had that sunny afternoon. Emelienne lives on, as do all our good memories. Memories that, if revisited, allow us to redeem what needs redemption, and enjoy again, what was enjoyed.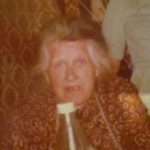 In every way, this experience was far beyond my expectations. It even had elements in it that Steve and I shall recall in others of these continuing stories.
Here is a picture her daughter found of Emelienne shortly before her death. She was in her eighties.