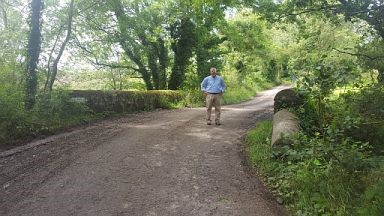 by Steve McAlpin
There is a small coastal village in southwest County Cork, Ireland named Ballydehob. And it was in this tiny place that I was introduced to The Bridge Between. I happened upon it by chance as I was searching on-line for someone, a female, to share my remaining 6 vacation days with when my 10-day Dady Brothers tour of Ireland concluded on July 25, 2017. A big part of the plan was to research the McAlpin, MacAlpine family lineage, as I was informed that our roots are deeply dug into that part of the country.
My online inquiry turned up several single women from all walks of life. I wrote to a few and received even fewer replies. One however seemed to call out to me in a way that almost seemed as if I could hear her voice. There was a photo attached to her profile and she appeared to be not only confident but was very Irishly-pretty as well. We began an internet dialogue that quickly turned into real phone conversations. We shared an appreciation for the outdoors, education, and a love for art.
And there, that was all I thought I needed to know. However, her spiritual magic was only just beginning to envelope me. Maureen, to be pronounced with the accent on the 'Maur' instead of the 'een' as we say in American English, and I finally met at my hotel's restaurant in one of my travel-buddy Bob Whelan's favorite towns: Skibbereen.
I was waiting for her in the restaurant when my phone rang.
"Hi Maureen." I answered excitedly. She wanted to make sure that I had made it to the hotel and all was well.
"Oh yes, everything is great. Room is nice and…"
"Steve," she interrupted, "I don't know what you look like. How will I know it's you!?"
She had lost my internet profile, so with a sneaky laugh, I told her "Oh I'll know you when you come in. I guess it'll be a big surprise for you now. Hahaha."
I would have been easy to identify among the scant crowd, by the simple fact that I was the only one with flowers. We sat next to each other on a bench and shared tea and water. She was not the researcher I had hoped for, nor was she interested in dating me. However, the evening was intimate in that our destiny was not to be made on the outside, but the innermost inside. It set the next few days in motion, proving her to be a providential witness to my frailties and pain. She was more than a human being. Her words were gentle and soothing, yet mighty as they skipped past my ears and straight into my heart.
Who was this attractive Irish woman? And how did the providence of my journey with Bob Whelan continue, and in some ways, intensify after we parted?
Maureen told me that she is a "Spiritual Midwife." A title she was given to generalize her many unique gifts. Her business card included: Hypnotherapy, Psychotherapy, Artistic Therapy, and Reiki Practitioner. But 'Spiritual Midwife' was by far her most accurate description.
Sitting in the restaurant that first evening, I had the feeling, somehow, that I was in the presence of greatness. I can't describe it any other way. And as our initial discussion continued, I began to understand why. The subject of religion entered the dialogue which made me a little uneasy.
"I'm a Christian, Maureen, and with Bob, have been learning more about how to be a better Christian."
"Interesting." She replied. I'm a child of all religions and follower of none." She suggested that no "religion" owned the franchise on God. I nodded my agreement, but never expected the words that then left her lips:
"I have spoken with the Blessed Mother, Mary. I've seen her, Steve."
I was frozen in place and probably asked some stupid question.
"She told me: 'Always remember that Christ's light penetrated through me, and now it has penetrated through you. You are a Spiritual Midwife."
She continued: "The Light is Jesus Christ, and He is the fruit of her womb. I too have children as do many women, and that Light has passed through all of us. It's just that some can't see or feel it. It never comes to them. Both women and men hold a deserved and unique responsibility in the world. They have been chosen to pass on The Light of the world."
I must have looked silly with my mouth open. I could not even consider the responsibilities inherent to, or assumed by men. I had no argument. I believed her. I could see it with my own eyes, and Maureen penetrated me at that moment.
I was sitting next to one of God's special Angels. I still have trouble believing that she was indeed a genuine human being as well.
My head still spinning, I hugged her good night and we agreed that I would drive to her house for tea the next morning. As I lay in bed, I wondered what I had gotten myself into. Restless sleep has been a continuing problem for me, but that night and since, I rested. I've gained new insight into my own journey and mission on earth. I've been empowered by a peace that has washed over me and smoothed many of my sharp and dangerous edges. Maureen had given me permission to move on.
The Bridge Between
The next morning, I found her house off a remote road and was warmly welcomed inside. The walls were appointed with extraordinary artwork. I can paint a little, but her incredible style of painting was brand new to me. And although we can never fully understand the intent or message of an artist or their work, we can appreciate the inner strength of expression within the mind, heart, body, and spirit. Maureen's works whispered to me softly, and I felt the intimacy of her expression and touch.
"Hey Steve, let's go for a hike. Just up the road."
"Great idea." I said as I finished my tea.
The crumbled pavement beneath our feet disintegrated even further with each labored step. Her steep road wove lazily up a hill, offering little incentive for me to continue the climb. But we did. The way was bordered by countless thousands of flat limestone rocks, human-broken or cut, and stacked with orderly precision.
"That's a famine wall, Steve. It was built here by men employed on 'Work Schemes' that were usually initiated by churches or landlords during the Potato Famine (1845-1852). The intent was to provide labor-related income for impoverished families."
"That's fascinating…Maureen." She glanced to her right to see if I was really struggling as much as my oxygen-deprived voice indicated. I sucked in a gulp. "Don't worry, I'm good." In the back of my mind however, I chuckled: "Oh yeah, Steve, 10th Mountain? Engineer? Airborne Infantry? SOCOM? Gee, a real tough guy. Ha!"
Climbing still higher, the road narrowed into nearly less than a lane where ancient oaks, birches, and Ash trees canopied the road and let tangled vines and overgrowth conceal their twisted trunks. The sun poked through the dense leaves and branches, calling me onward into the unknown. I was being led into a magical place and didn't even realize it.
Finally, at the top of the hill we discovered several dilapidated stone and wood buildings. It appeared that the owner had just passed on one day and only God took notice. It was once a lively farm with a main house, livestock barns, a few scattered outbuildings, and probably the echoes of children long since gone.
"You know, Maureen, I would buy and fix this place up if not for that damn road."
She laughed and said: "Glad you like it. But this is not our destination today. Let's go back a bit and take another road." "Great!" I thought. "More hills. Just what I need!"
So down we walked for about 200 yards. I could hear water flowing in the distance and was anxious to discover the source. As we drew towards the intersection, the mouth of a bridge arched upwards from the green. It looked like something Merlin would have introduced to a young King Arthur.
"What is this place, Maureen?" I asked, almost scared of what she might tell me.
"It's the Bridge Between."
"Bridge between what?" I continued.
"You'll see. Come on! We've just a little farther to go." We hiked over the bridge and made our way along the side of the river and down to a man-made break-wall holding the Atlantic tide from this precious land.
"I have something for you, Steve."
Her voice felt like a warm blanket on a chilly day and somehow, embraced my heart with profound peace. Something that's eluded me for – well, my entire life.
Looking out to sea, Maureen began to move her body in a Tai Chi sort-of rhythm. Her performance took more than a few minutes to complete with me just looking on in awkward amazement. Her final position consisted of standing still with both arms raised above her shoulders on either side. Her arms were curved slightly, reminding me of Jesus hanging on the cross.
"This is Halleluiah, Steve. This is for you."
All I could muster was "Thank you, Maureen. That was beautiful. Thank you."
"Lovely." She said. "Now let's head back home."
We chatted about our lives and philosophy as we again neared the ancient bridge.
"You know, in my work, I never get a chance to talk about my life and have others listen. You're a good listener, Steve. I'm grateful to you for that. Thank you." I imagined that her life was packed with so much of others' pain-letting that she must need to process and dispossess herself of it somehow. Perhaps it was through her art, her exercise, reading, and then again, maybe it was indeed through her actual work, or her 'calling' so to speak. This time it was talking to someone like me. Rather a stranger with a non-judgmental and open mind. My self-image was that of a Martial Arts student stepping onto the mat for the first time. Maureen was the Master and I the clay that she would form into someone different. This was my first step and I had so much more to learn from this person.
When we arrived at the bridge, we meandered towards the middle, and then leaned over one of the stone barriers. The river was alive with small rapids, making a continuous splash that was distinct and peaceful. We peered into the oncoming water below.
"Steve, look into the river. It's coming towards you. Close your eyes and take a deep breath. Feel the air and the river coming into you." She gave me a minute to find my emotional balance.
"Take in your many experiences, good and bad. The marriages, the wars, the struggles, the anger, the love, the joy… Take them all in and hold them."
I could sense the actual power in her suggestion. My soul seemed to melt into a swirl of emotion. I was in conflict, and felt the powerful polarity between good and evil. It was inside me. All of it. I was not in control. Five minutes passed – maybe more. I was physically and emotionally, consciously heavier.
"Now Steve, come to the other side of the bridge. Look again into the water. It's flowing away from you." There were no rapids on this side, and the water seemed still. "Close your eyes and breath deep. Release the ugly things and hold on to only what you need. Release it, Steve. Let it go into the river."
I did as Maureen suggested and through her, gave myself permission to release my many barriers to wellness. I became empowered to walk without crutches. To think openly and walk humbly.
"Steve, this is the Bridge Between, and you have crossed it."
And I did cross it. By God or by this angel, I crossed it. And came out the stronger man on the other side.
On the last day of our meeting, Maureen recommended we take a drive westward towards Bantry and Glengariff to see more of the unique villages and countryside, and have lunch along the way. As each day with Maureen closed, I listened to myself trying to recapture the images and conversations we shared. We spent time discussing my relationship with Bob and the blessing of being with him on the Dady Brothers Irish Tour.
"I'm glad that you and Bob could return to Europe and witness the results of your personal sacrifices. Bob sounds like a fascinating man and I can see that you two are good for each other." I was impressed with her timely assessment and dead-on conclusion.
In the car that last day, the conversation drifted to Irish music, The Dady Brothers, The Henry Girls, and several other artists that I still needed to discover. I was again amazed when Maureen said:
"Oh, I used to be a singer too! Even professional at one time. I still enjoy singing when I get the chance. Would you like me to hear me sing?"
"Well sure!" I replied, almost embarrassed. Not since my mother rocked me in a cradle had I been a solo audience for anyone.
Then, thinking that this experience could not get any more providential, Maureen chose a song that has been close to my heart for many years. It was sung at my former Father-in-Law's funeral I felt as if this angel had read it somewhere in my innermost being.
Caledonia by Dougie McLean (and others)
"I don't know if you can see
the changes that have come over me
and these past few days I've been afraid
that I might drift away
I've been telling old stories, singing songs
that make me think about where I come from
and that's the reason why I seem
so far away today
Chorus
Let me tell you that I love you
that I think about you all the time
Caledonia you're calling me now I'm going home
and if I shall become a stranger
no it would make me more than sad
Caledonia's been everything I've ever had
well I have moved
and I've kept on moving
proved the points
that I needed proving
I've lost the friends
that I needed losing
found others on the way
I have kissed the fellas
and left them sighing
stolen dreams yes there's no denying
I've travelled hard
sometimes with conscience flying
somewhere with the wind
Chorus
now I'm sitting here
before the fire
the empty room
a forest choir
the flames have cooled
don't get any higher
they've withered now
they're gone
and I'm steady thinking
my way is clear
and I know what
I will do tomorrow
the hands have shaken
the kisses flowed
and I will disappear
Chorus
With tears in my eyes, I couldn't help but sing along – though just above a whisper.
"How did you know that song was so close to me, Maureen?" I asked in amazement.
"I just knew." She said as she glanced my way with a Cheshire smile.
When I said goodnight to Maureen that last night, I knew we would meet again. Probably many more times again. Her image remains as an aura within me. She was someone real, and she deeply penetrated my soul. Moreover, she graciously held my hand across the Bridge Between.